According to the National Association of Realtors® (NAR) sales of existing homes grew in July for a third straight month, while transactions by first-time home-buyers fell to their lowest level since January, probably due to continuing low inventory levels and rising prices.

Total existing-home sales (which measures transactions for single-family homes, townhomes, condominiums and co-ops) grew to 2.0 percent to a seasonally adjusted annual rate of 5.59 million in July, up from a downwardly revised 5.48 million in June. July's sales kept the briskest pace since February 2007 (5.79 million), and have now increased year-over-year for ten straight months and are 10.3 percent higher than a year ago (5.07 million).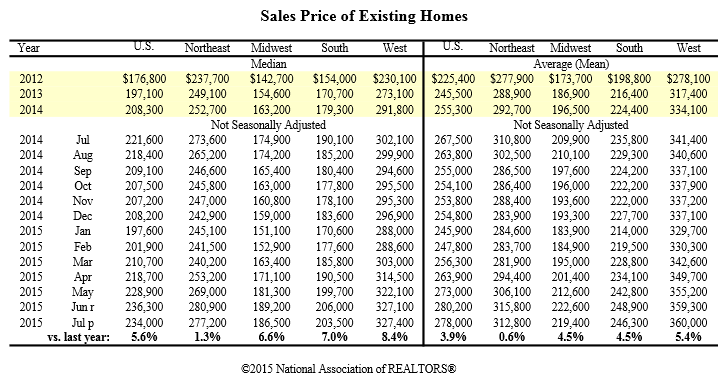 NAR's chief economist, Lawrence Yun, indicated that July's sales growth solidifies an impressive growth in activity during 2015's peak buying season. According to Yun, "The creation of jobs added at a steady clip and the prospect of higher mortgage rates and home prices down the road is encouraging more households to buy now." NAR's chief economist added that "As a result, current homeowners are using their increasing housing equity towards the downpayment on their next purchase."

Key Takeaways
The median existing-home price (for all housing types) in July was $234,000, representing an increase of 5.6 percent over July 2014. July's price growth marks the 41st consecutive month of year-over-year gains.
Total housing inventory by July's end fell 0.4 percent, to 2.24 million existing homes available for sale, and is now 4.7 percent lower than a year ago (2.35 million). Unsold home inventory sits at a 4.8-month supply at the current sales pace, a decline from 4.9 months in June.
The share of first-time buyers among overall transactions fell in July for a second consecutive month, dropping from 30 percent in June to 28 percent. A year ago, first-time buyers represented 29 percent of all buyers.