Existing-home prices were up across much of the country in February due to a lag in inventory levels, according to a recent report by the National Association of REALTORS (NAR). However, overall existing-home sales, which include recently purchased single family, townhomes, condominiums, and co-ops fell 0.4 percent during February to a seasonally adjusted 4.62 million units for the year.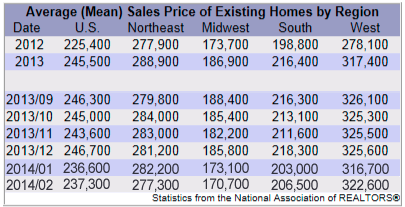 NAR chief economist Lawrence Yun says the market remained steady from the pace set in January. "We had ongoing unusual weather disruptions across much of the country last month, with the continuing frictions of constrained inventory, restrictive mortgage lending standards and housing affordability less favorable than a year ago," he said. "Some transactions are simply being delayed, so there should be some improvement in the months ahead. With an expected pickup in job creation, home sales should trend up modestly over the course of the year."
Nationally, the median time for homes to sell was 62 days in February, down from 67 days in January. Thirty-four percent of February home sales were on the market for less than a month.